Beam Spot Wash 3 in 1 Moving Head Light 380W
| | | |
| --- | --- | --- |
| Item Name | Product Name | Key Features |
| NF-BSM470 | 470W Beam Spot Wash 3in1 moving head light | Osram 470W |
| NF-BSM380 | 380W Beam Spot Wash 3in1 moving head light | Osram 380W |
380W Beam Spot Wash 3 in 1 Moving Head Light
NF-BSM380 is a power 380W moving beam light fitted with multiple functions in one unit including beam, spot and wash. It's a very bright and super fast with a sharp parallel beam that cuts through the air with ease. Offering motorized focus, with a narrow 5-40 degree(spot application), and 3-10 degree(beam application), make NF-BSM380 flexible for short or long-throw situations. More incredible performance is its rotating 8-way linear or 16-way circular prisms to create wide reaching effects across any stage and larger venues.
your positive feedback.
BEAM SPOT 380 is one of the multi-functional and high power moving lights that combine BEAM, SPOT, WASH and ZOOM 4in1. Using the three-phase motors to ensure rotation smooth, fast, precision. Zoom angle is 2.5 degrees tightly and 60 degrees wide, so the gobo is able to cover a whole large stage. The product is especially suitable for bar, DJ, night clubs, big concerts, tour shows and so on.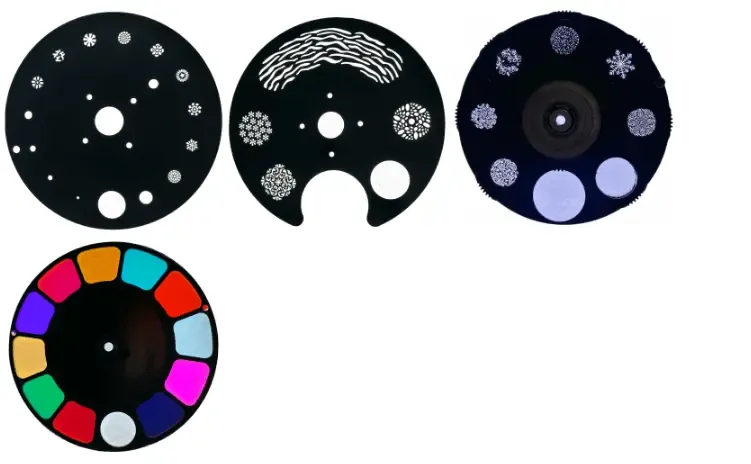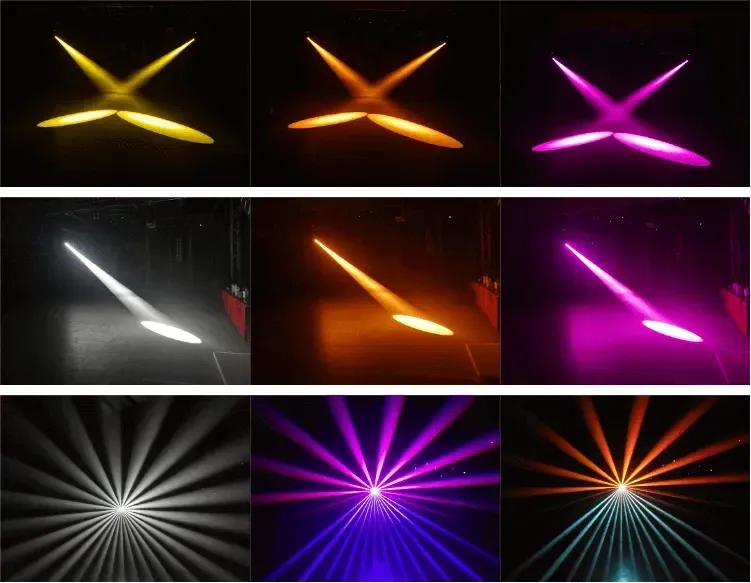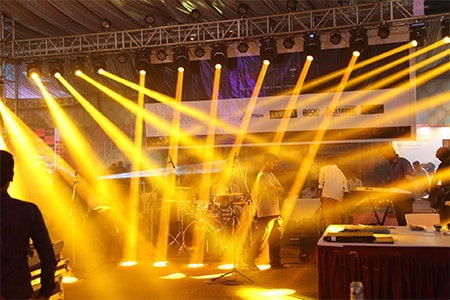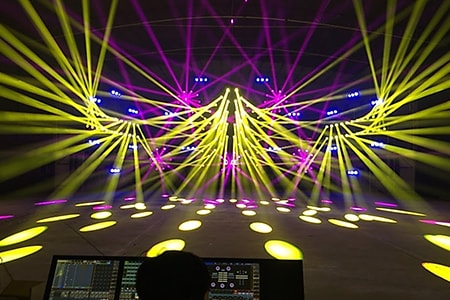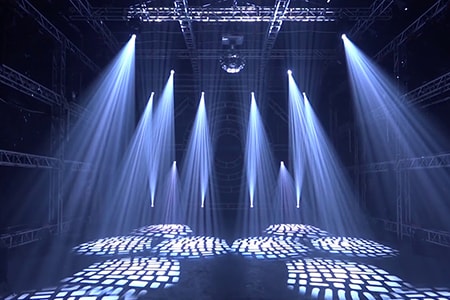 Technical Specifications
Power Supply: 110-240V AC, 50/60Hz
Power Consumption: 500W
Light source: 380W 8000k 18R
Beam: multi-class beam adjustment
Color wheel: 13 color + blank color wheel, can be half color effect
Static Gobo wheel: 12 gobos speed jitter/bidirectional flow effect
Static Gobo Wheel: 9 optional plug-in design + white speed jitter/bidirectional flow effect
Prism: 2 independently rotating prism, wherein a prism with zoom function, dcan also be equipped with 8+16/16+24/24+32 prism
Prism 1: 16-facet circular prism rotating
Prism 2: T linear prism rotating/8/16-facet circular prism rotating
Frost effect: Adjustable Wash effects angle
Lens: high precision optical lens
Motor: 3 phase motor
Zoom: Parallel beam angel 2.5 degree -30 degree change
Focus: Linear adjustment
Movement Pan: 540°
Optional Tilt: 270°
Strobe/shutter: Double lens strobe, 0-13 Hz or random strobe
DMX Channels: 16/24 Channels DMX
Dimension: 620*440*440mm
N.W.: 23kg
Electrical
Power supply: electronic auto-ranging
Input voltage range: supply 100-250V, 50/60Hz
Power consumption: 510W
Ballast: electronic ballast
Optic
Light source: YODN 380U18
Life expectancy: 2200 hours
Lens: High precision optical lens
Strobe: Dual lens strobe (0.5-9times/second)
Dimmer: Smooth dimmer from 0-100%
Feature
Color Wheel: 13 color+white
Rotating gobo wheel: 7 gobos+ white
Static gobo wheel: 11 fixed gobos+white and effect gobo
Prism: 25and16 facets circular rotating prism
Zoom: 2.5°-65°
Focus: Linear adjustment
Frost: 100% frost
Motorized
Pan/Tilt
Pan movement range: 540° Tilt movement range: 270°
8bit/16 bit movement solution, optional Automatic
Pan/Tilt position correction Pan movement 0°-540°at max…….
Tilt movement 0°-270°at max……..
LCD operation
Display: color touch screen
Supported protocols: DMX512
2 DMX modes (16/24 control channels)
Connection
DMX data in/out: Locking 3-pin XLR
AC power input: 1.5m power cord with plug
Rigging
Mounting points: 2 pairs of 1/4-turn locks
Mounting horizontally or vertically via 2 Omega brackets
Temperatures
Maximum ambient temperature: 45℃
NewFeel Stage Laser Company View
Guangzhou NewFeel Photoelectric Technology Co., Ltd. established in 2008, has a 300 square meters manufacturing plant in Guangzhou.We are professional in researching and manufacturing Laser Lights.
The main Brand of our company is NF Laser Light, under this brand we have :
1.ANIMATION LASER LIGHT, Applicable in : night club, disco, club, concert, Gymnasium,etc.
2.OUTDOOR LASER LANDMARK, Applicable in: outdoor landmark, laser show, advertising,etc.
3.Beam Laser Bar Light Series
With the support from our experienced and professional R&D Dept., advanced and high-tech manufacturing & testing equipment and enthusiastic sales team, our products enjoy a good reputation both in home and over sea market for their superior performance. They are mainly exported to Europe, America, Asia and other developing countries.
Our company have mastered the nicety production & manufacturing technique, strictly control and manage the product quality, product's performance and the product testing. We devoted our best service and support to our customer for getting the win-win and long term relationship.
Sincerely we believe that: Integrity is the basic of everything!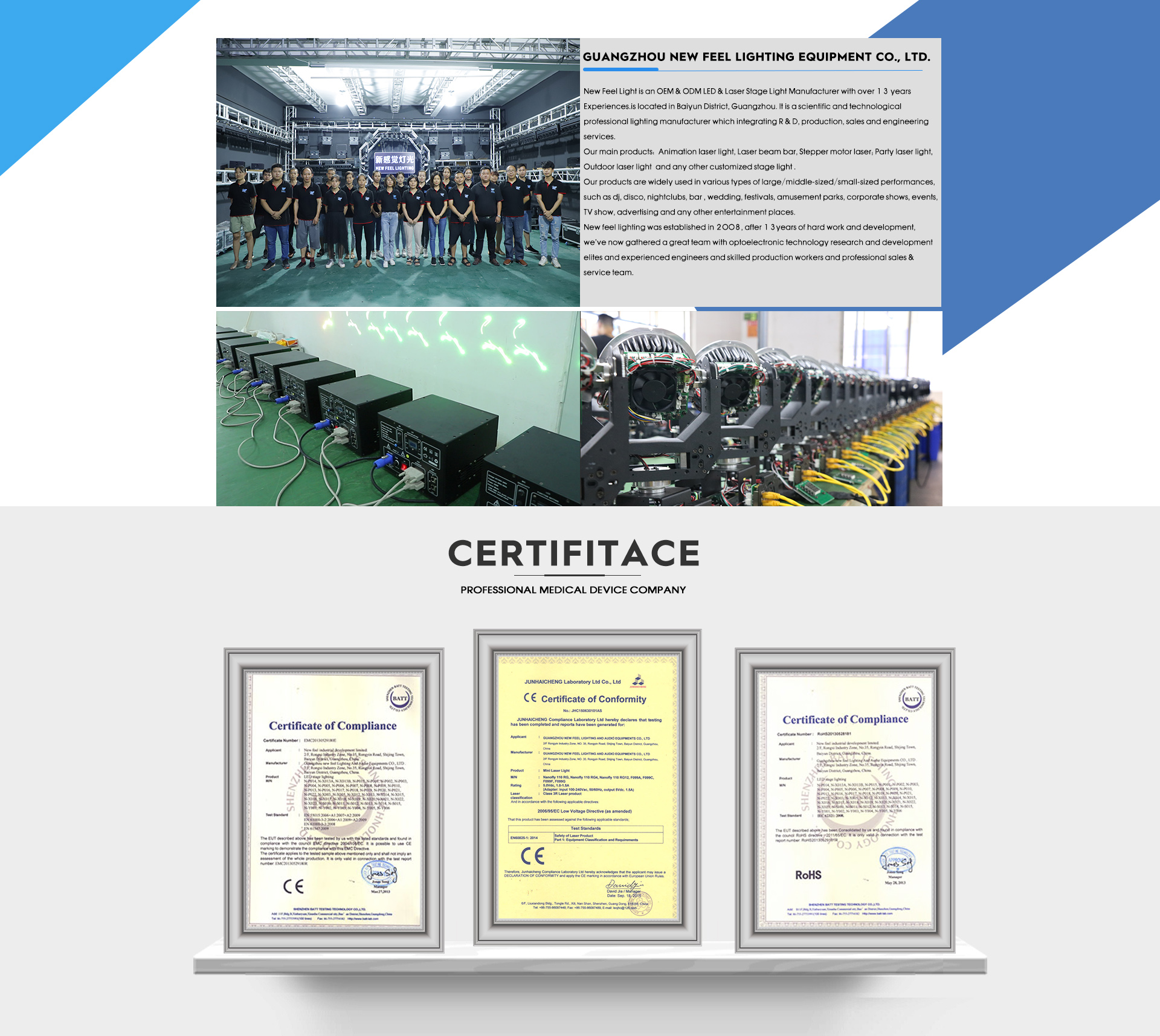 NewFeel Stage Laser Company Advantage
1:You will get the best price ,as we are a Factory Company
2:You will enjoy our 2 year warranty,which means that you do not worry the quality,if have any problem,we will replace or amend all our goods for free!
3:Support 3D effect design and programmed which will allow you to make your own 3d show !
4:You could enjoy your own logo in the laser body,do your own brand!
5:If your country is cold,You can reply on our service of Heating Equipment,when the temperature below-2°,it will be heater and speed up to start working for the light
6:you will work with a laser for refreshing,neat(dust proof) and the machine working sound just like a butterfly fly
7:You could used our laser in any country as Our voltage is 100-240v and have all kinds of country plug
8:You will like in our factory to see the produce testing and packing process,as we will update video and picture when producing testing and packing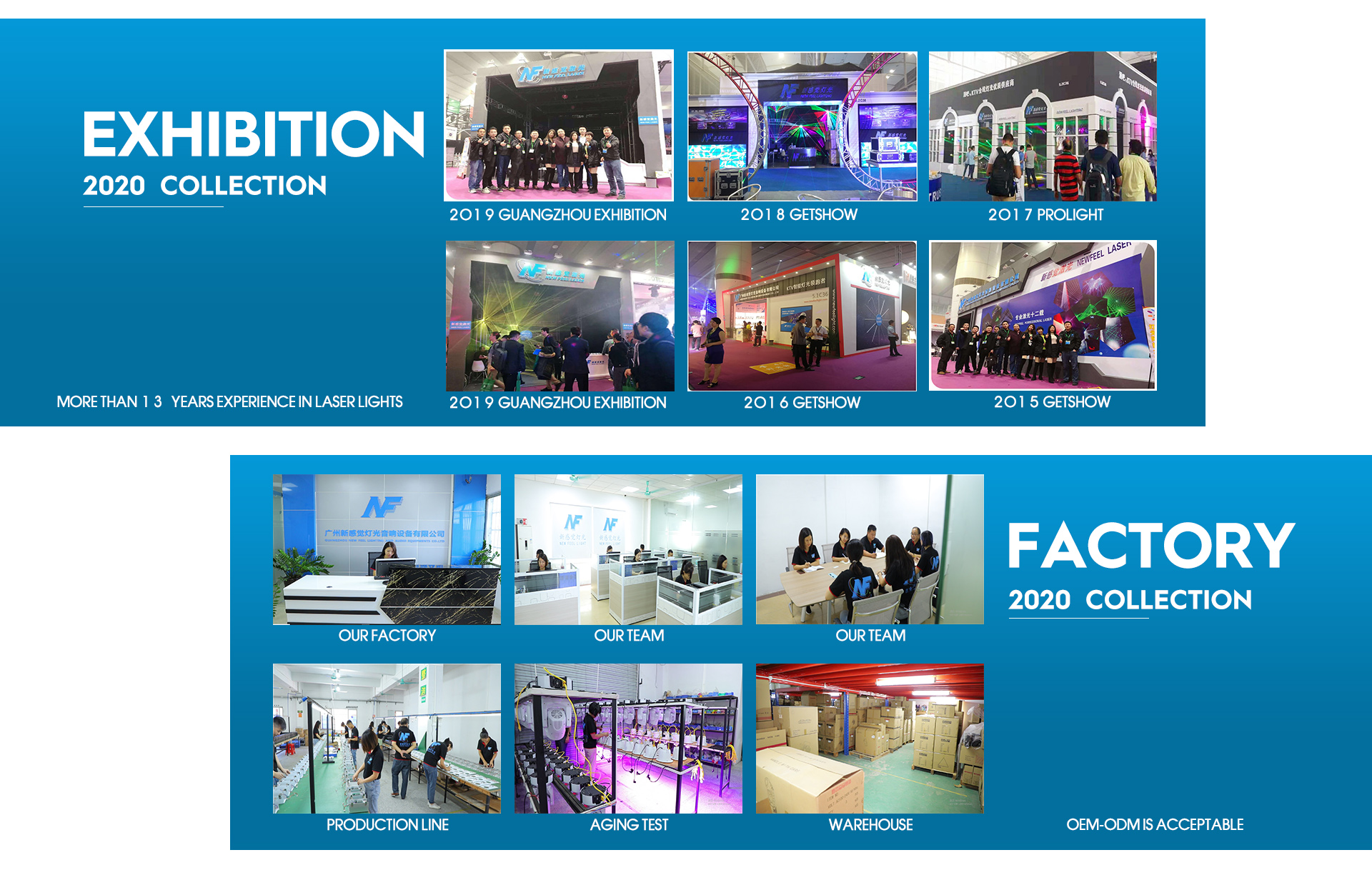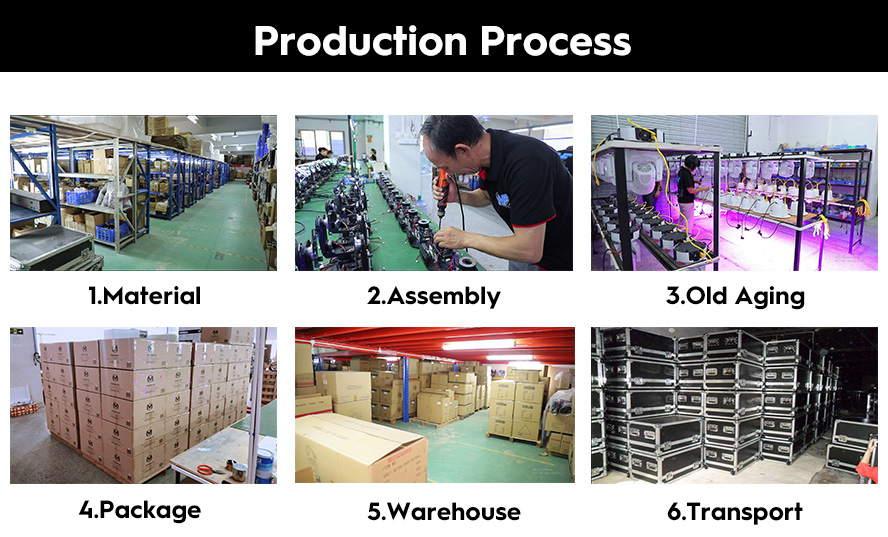 Delivery Details & Returns:
All of our shipments are packaged handled with care. Our shipping department is open 6 days a week for 12 hours a day. This listing may include an extended handling time. We will notify you immediately if the actual handling time exceeds the listed handling time. Every order may need 1-3 bussiness days of packing and handling. Delivery: Delivery schedules are based upon normal conditions. All items in stock are available for shipping within 48 hours after order is received and confirmed. If item is out of stock or back-ordered, please allow a maximum of 3-7 days to manufacture.
1.Items are dispatched from China Warehouse within 72 hours (except weekends and holidays)
2. Please check the shipping cost and the handing fee before purchasing.
3. Return items must be the problem of product itself, not Wrong manipulation by user.
4. Buyer is responsible for all return shipping charges.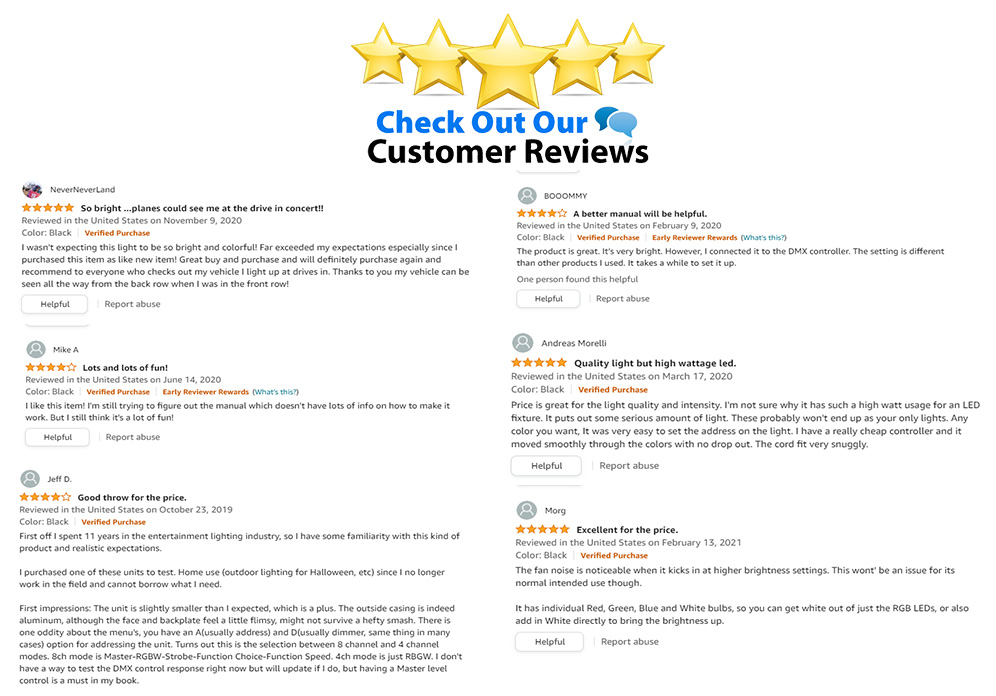 Feedback:
We will automatically leave positive feedback to every buyer who completed payment. Please email us if you have problem with the items. We will try our best to solve the issue. Your satisfaction is our first priority. We appreciate your positive feedback.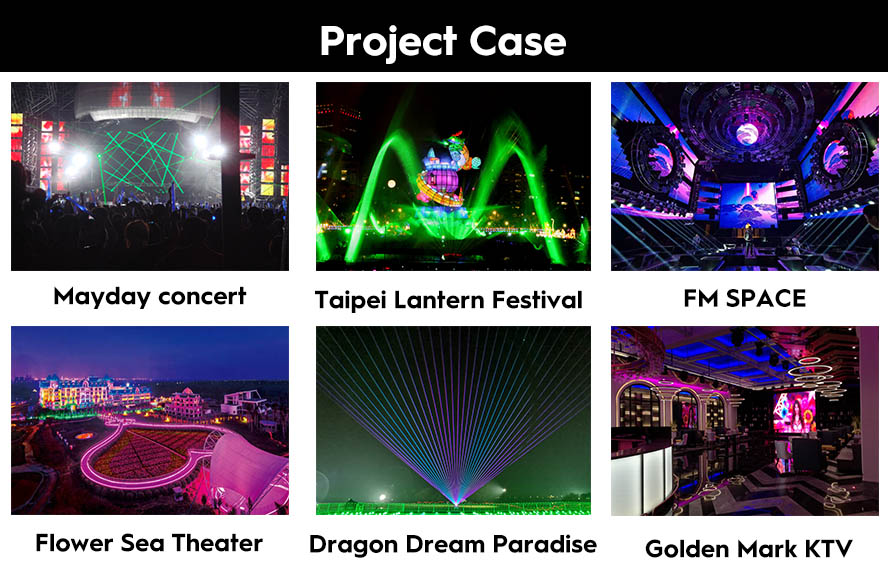 CONTACT US


Guangzhou New Feel Lighting and Audio Equipment Co., Ltd.
We are always providing our customers with reliable products and considerate services.
If you would like to keep touch with us directly, please go to contact us