380W Beam Spot Wash 3 in 1 moving head light
| | |
| --- | --- |
| Light type | moving head |
| Power Supply | 110-240V AC,50/60Hz |
| Power Consumption | 500W |
| Light source | 380W 8000k 18R |
| Beam | multi-class beam adjustment |
| Color wheel | 13 color + blank color wheel,can be half color effect |
| Static Gobo wheel | 12 gobos speed jitter / bidirectional flow effect |
| Static Gobo Wheel | 9 optional plug-in design + white speed jitter / bidirectional flow effect |
A kit of 2 professional Tiger 18R 3-in-1 moving heads, supplied in a solid and rugged flightcase. The Tiger 18R offers three effects; Beam, Spot and Wash and is equipped with a 18R 380W high intensity discharge bulb. It has also a colour (CMY Colours), frost, gobo and double prism effect wheel for ultimate control. Works both in DMX or stand-alone mode. When operating in DMX mode you have complete control with 23 or 26 DMX channels. Among its features are an mechanical shutter and adjustable speed strobe, frost filter, rotation prism, motorized focus and mechanical dimmer.
8R 380W BSW Moving head light WITH ZOOM AND CMY Yellow River
Newfeel lighting 18R 380W BSW Moving head light WITH ZOOM AND CMY,Newfeel lighting established in 2007, focusing on stage lighting for 21 years. We focused in professional moving head beamfor 22 years and most of our workers are with much experience on lighting industry. Yellow river brand is top 10 lighting brand in China and we got many good reputation from different domestic and foreign customers these years!
This is our 380W BSW moving head light with zoom and CMY, which can shoot long distance, this light is with a powerful CMY color mixing system, so it can create high-level performance, suitable for super-large and medium-sized occasions requiring color mixing effect. Such as conferences, annual meetings, the living theatre, concerts, TV stations,etc.
It has 12 color+ 2 CTO + 1 CTB + 1 CMY+ White open + semi-color effect. Regarding the gobo, it has two fixed gobo wheels and one rotation gobo wheel.
It also has 1pcs 8- facet prism & 1pcs 16 facet prism
The beam angle is 2.3-50 degrees, pan movement 540 degrees, tilt 270 degrees.
It also has high efficient cooling system and intelligent speed control fan, which can make the lifespan of the bulb longer.
Lux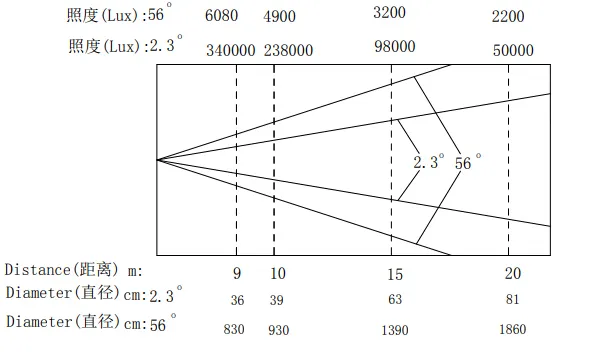 Light type: moving head
Power Supply: 110-240V AC,50/60Hz
Power Consumption: 500W
Light source: 380W 8000k 18R
Beam: multi-class beam adjustment
Color wheel: 13 color + blank color wheel,can be half color effect
Static Gobo wheel: 12 gobos speed jitter / bidirectional flow effect
Static Gobo Wheel: 9 optional plug-in design + white speed jitter / bidirectional flow effect
Prism: 2 independently rotating prism, wherein a prism with zoom function, dcan also be equipped with 8+16/16+24/24+32 prism
Prism 1: 16-facet circular prism rotating
Prism 2:T linear prism rotating/8/16-facet circular prism rotating
Frost effect: Adjustable Wash effects angle
Lens: high precision optical lens
Motor: 3 phase motor
Zoom: Parallel beam angel 2.5 degree -30 degree change
Focus: Linear adjustment
Movement Pan: 540°
Optional Tilt: 270°
Strobe/shutter: Double lens strobe, 0-13 Hz or random strobe
DMX Channels: 16/24 Channels DMX
Dimension: 620*440*440mm
N.W: 23kg
NewFeel Stage Laser Company View
Guangzhou NewFeel Photoelectric Technology Co., Ltd. established in 2008, has a 300 square meters manufacturing plant in Guangzhou.We are professional in researching and manufacturing Laser Lights.
The main Brand of our company is NF Laser Light, under this brand we have :
1.ANIMATION LASER LIGHT, Applicable in : night club, disco, club, concert, Gymnasium,etc.
2.OUTDOOR LASER LANDMARK, Applicable in: outdoor landmark, laser show, advertising,etc.
3.Beam Laser Bar Light Series
With the support from our experienced and professional R&D Dept., advanced and high-tech manufacturing & testing equipment and enthusiastic sales team, our products enjoy a good reputation both in home and over sea market for their superior performance. They are mainly exported to Europe, America, Asia and other developing countries.
Our company have mastered the nicety production & manufacturing technique, strictly control and manage the product quality, product's performance and the product testing. We devoted our best service and support to our customer for getting the win-win and long term relationship.
Sincerely we believe that: Integrity is the basic of everything!
NewFeel Stage Laser Company Advantage
1:You will get the best price ,as we are a Factory Company
2:You will enjoy our 2 year warranty,which means that you do not worry the quality,if have any problem,we will replace or amend all our goods for free!
3:Support 3D effect design and programmed which will allow you to make your own 3d show !
4:You could enjoy your own logo in the laser body,do your own brand!
5:If your country is cold,You can reply on our service of Heating Equipment,when the temperature below-2°,it will be heater and speed up to start working for the light
6:you will work with a laser for refreshing,neat(dust proof) and the machine working sound just like a butterfly fly
7:You could used our laser in any country as Our voltage is 100-240v and have all kinds of country plug
8:You will like in our factory to see the produce testing and packing process,as we will update video and picture when producing testing and packing
Delivery Details & Returns:
All of our shipments are packaged handled with care. Our shipping department is open 6 days a week for 12 hours a day. This listing may include an extended handling time. We will notify you immediately if the actual handling time exceeds the listed handling time. Every order may need 1-3 bussiness days of packing and handling. Delivery: Delivery schedules are based upon normal conditions. All items in stock are available for shipping within 48 hours after order is received and confirmed. If item is out of stock or back-ordered, please allow a maximum of 3-7 days to manufacture.
1.Items are dispatched from China Warehouse within 72 hours (except weekends and holidays)
2. Please check the shipping cost and the handing fee before purchasing.
3. Return items must be the problem of product itself, not Wrong manipulation by user.
4. Buyer is responsible for all return shipping charges.
Feedback:
We will automatically leave positive feedback to every buyer who completed payment. Please email us if you have problem with the items. We will try our best to solve the issue. Your satisfaction is our first priority. We appreciate your positive feedback.
CONTACT US

Guangzhou New Feel Lighting and Audio Equipment Co., Ltd.
We are always providing our customers with reliable products and considerate services.
If you would like to keep touch with us directly, please go to contact us